PATRICK C. PHILLIPS
Interim President of the University of Oregon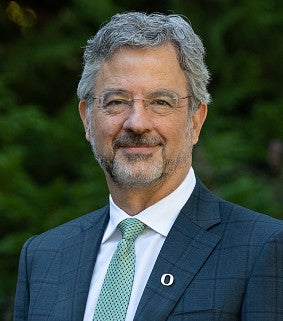 Patrick C. Phillips is the interim president of the University of Oregon. He was appointed to the position on August 20, 2022 by the UO Board of Trustees. As interim president, Phillips is the institution's chief executive officer and is focused on advancing the UO's mission through enhancing academic and research excellence, supporting student access and success, improving inclusion and diversity, and providing an outstanding campus experience. 
A noted biologist, Phillips has a long history at the UO, beginning in 2000 when he became a faculty member in the Department of Biology. As a professor, he has conducted extensive research focusing on understanding how genetic information contained within DNA is translated into the complex suite of features that characterize all organisms. His work uses the model nematode C. elegans and its relatives to research the molecular genetic basis of natural variation in traits such as body size, reproductive success, and behavior, as well as seeking novel approaches to understand the biological basis of aging and to identify genes and environmental interventions that increase health span and longevity. 
Phillips is a fellow of the American Association for the Advancement of Science, is a past editor for the journals Genetics, G3 (Genes, Genetics and Genomes), Genetical Research, and Evolution, and has been a John Simon Guggenheim Foundation fellow, a Searle fellow, a UO Fund for Faculty Excellence Award recipient. He has been a visiting fellow at the Instituto Gulbenkian de Ciência in Portugal and professeur invité for the Laboratoires d'Excellence MemoLife program at the École Normale Supérieure in Paris. He began his career as an assistant and then associate professor of biology at the University of Texas at Arlington before coming to the UO. 
At UO, he was the acting executive director of the Phil and Penny Knight Campus for Accelerating Scientific Impact, where he led the design and construction process for several new scientific research buildings slated to open in spring 2020, for establishing governance and educational policies for the new campus, and for initiating and supporting new graduate internship and entrepreneurship programs. His past roles include: director of the Institute of Ecology and Evolution; head of the Department of Biology; and associate vice president for research. 
He received a bachelor's degree in biology from Reed College in 1986, a master's of science in evolutionary biology from the University of Chicago in 1988, his PhD from the University of Chicago in 1991, and was a National Institutes of Health postdoctoral fellow at the University of Wisconsin, Madison.