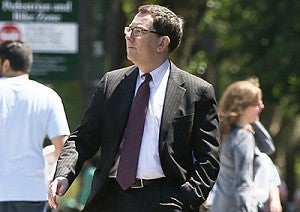 MICHAEL H. SCHILL
18TH PRESIDENT OF THE UNIVERSITY OF OREGON
Michael H. Schill is the 18th president of the University of Oregon. He has served as president of Oregon's flagship public university since 2015 and has focused on three priorities to advance the UO's mission: enhancing academic and research excellence, supporting student access and success, and improving campus experience and diversity.
In support of these priorities, in 2016 Schill announced the launch of the Phil and Penny Knight Campus for Accelerating Scientific Impact, a billion dollar initiative to transform innovation at the UO, the first phase of which was anchored by a $500 million gift from the Knights. Under Schill's leadership, the UO partnered with Oregon Health and Science University to seed new academic opportunities to benefit society and create a biomedical data science center focused on finding treatments and cures for cancer.
From 2015 to 2019, the University of Oregon has raised $1.3 billion and extended its comprehensive campaign goal to $3 billon. The campaign will be the largest in the university's history.
As a first-generation college graduate, Schill is a champion of public higher education and its power to transform lives. He announced the Oregon Commitment in 2015, an effort focused on supporting student success by improving four-year graduation rates and providing more access to higher education through programs such as PathwayOregon, which provides free tuition, fees, and specialized advising to eligible Oregonians. This initiative also included the hiring of two dozen new academic advisors trained in an integrated approach to providing academic and career-readiness support to students.
In an effort to encourage the exchange of ideas and make campus more inclusive and equitable, Schill held a series of events focused on freedom of expression, launched an African American speaker series, oversaw the development of thirty-four diversity action plans for each major administrative and academic unit on campus, and championed the creation of a new Black Cultural Center, which opened in 2019.
Schill previously served as the dean and Harry N. Wyatt Professor of Law at the University of Chicago Law School. Prior to joining the University of Chicago in 2010, Schill served as the dean of the University of California, Los Angeles School of Law from 2004 to 2009. His other faculty appointments include tenured positions as professor of law and urban planning at New York University and professor of law and real estate at the University of Pennsylvania.
A nationally recognized expert in property, real estate, and housing law and policy, Schill is the author or co-author of several books and many scholarly articles. His work includes studies of the determinants of value in condominium and cooperative housing, the impacts of subsidized housing programs on property values, the enforcement of Fair Housing laws, mortgage securitization, and the deregulation of housing markets. His casebook, Property, co-authored with James Krier, Greg Alexander, and Lior Strahilevitz, is one of the best-selling casebooks used in American law schools.
In 2004, Schill founded the Furman Center for Real Estate and Urban Policy at New York University. Under his and subsequent leadership, the Furman Center has become one of the nation's leading research centers on housing and the built environment.
In addition to serving as the president of the University of Oregon, Schill was a member of the Board of Governors of Argonne National Laboratory, and is a member of the executive committee of the Pacific-12 Conference, a member of the Board of Trustees of Ithaka, the nonprofit organization that owns JSTOR, and a Fellow of the American Academy of Arts and Sciences.
Schill graduated with an AB in public policy from Princeton University in 1980 and a JD from the Yale Law School in 1984.
Schill also holds a tenured faculty appointment in the University of Oregon School of Law.