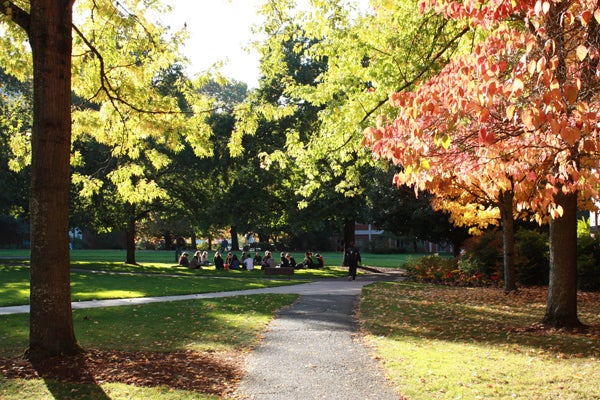 It's great to have fall term underway. The energy our students bring to campus is infectious. For some of you, welcome back after what I hope was a relaxing and productive summer. For others, thank you for all your hard work over the summer months maintaining this beautiful campus, paying the bills, engaging with the public through the Olympic Trials, camps, and public programs, and preparing for this academic year. 
I arrived here August 1, and have had a wonderful summer meeting people and learning about the university and the state. From Portland to Pendleton—from Florence on one side of the state to La Grande on the other—we have found amazing scenery and loyal UO alumni and friends.
As I told our new students at Convocation, this is my first year here too. In our first year at the University of Oregon, we have much to experience, explore and learn together. You should know that our entering class is both the most academically prepared and the most diverse in the university's history. We welcome an unprecedented number of international students to campus. These changes reflect our mission to ensure that our graduates excel in a rapidly changing world.
We also have an outstanding new group of faculty colleagues. I was pleased to welcome them at the new faculty orientation and the barbecue.
The Provost has addressed some of the challenges associated with the university's record enrollment and growing faculty in his communications to you. As we move forward, it is critically important that everyone work toward the common goal of providing the facilities and resources necessary for each of you to be able to do your best to serve our students and meet our research mission.
We continue to be part of the critical conversations taking place about governance of the university. These talks may well result in fundamental governance changes, enabling the UO to be more efficient and resilient than ever before. This refinement of our higher education model must also help reinforce our partnership with and commitment to the state's other universities and colleges, and our fundamental responsibility to the citizens of Oregon. In our research, scholarship, and creative activities, in our teaching and in our many outreach projects, our mission is to enhance the quality of life for Oregonians. We do that exceptionally well now, and look to a new model that will facilitate our work even more. A special committee of the legislature has issued a set of recommendations about governance. That report and our comments to the committee may be found on our government and community relations website.
Karol and I are thrilled at the opportunities ahead of us at the UO, in the community and around the state. I look forward to meeting with you, and working together to achieve our goals and fulfill our mission.  I welcome your questions and comments and may be reached at pres@uoregon.edu.
Here's to a wonderful term and an enjoyable autumn.
Michael Gottfredson