Honorary Degree Recipient 2017-18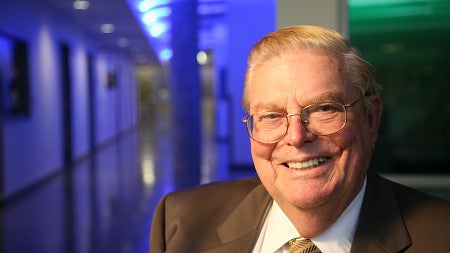 Lokey is chair emeritus and founder of Business Wire, the international media relations wire service, which he sold to Berkshire Hathaway in 2006. Since then, the Stanford University graduate has invested more than $800 million to advance learning, beginning with the school he attended as a child, Portland's Alameda Elementary.
An early signer of The Giving Pledge — a commitment by the world's wealthiest individuals and families to donate most of their wealth — Lokey has given away about 98 percent of his lifetime earnings, mainly to help launch or transform leading teaching and research programs, particularly in fields related to biomedical research. Several major universities in the U.S. and Israel, including the UO, are pursuing discoveries that hold great promise for improving human health and the environment as the result of Lokey's generosity.
At 90, the native Oregonian frequently describes himself as feeling privileged to be in the position to provide such generous support, explaining, "Those of us giving grants are really betting on the kids of the future — we want them to do better than we did."
Through his gifts, Lokey purposefully creates human connections that transcend national borders. Richard H. Jones, former U.S. ambassador to Israel, has said Lokey's financial support of research and teaching collaborations among universities have helped "strengthen the ties between Israel and the U.S."
At the UO alone, Lokey's giving exceeds $150 million and enhances the educational experience of every student. He enthusiastically jump-started numerous building projects ranging from new science buildings, among them the Lorry I. Lokey Laboratories and the award-winning Allan Price Science Commons and Research Library to expansion of the School of Music and Dance and renovation of the College of Education's historic quad. In addition to establishing the UO Fund for Faculty Excellence, he also has made extensive commitments supporting the Phil and Penny Knight Campus for Accelerating Scientific Impact.
Professors Bill Cresko and James Hutchison nominated Lokey for the honorary degree.
In making the nomination, Cresko, a professor of biology and associate vice president for research, said: "In Yiddish, someone is a mensch if they are a person of integrity and honor. Because of the unyielding support that Lorry has provided his adopted University of Oregon family over many, many years, I can think of no better honor than to say that Lorry is truly a mensch. He did not need to provide the resources to better educate thousands of students, to enhance our research infrastructure, and to honor our top faculty, but Lorry did. For that I and many of the rest of the U of O family are forever grateful.'"
Hutchison, the Lokey-Harrington Chair in Chemistry, said: "Lorry is an entrepreneur with the curiosity of a scientist and the heart of a poet. From his generous financial investments sprang forth a period of discovery, innovation, and achievement unimaginable before he befriended our campus. Although he was never a student here, the student experience at our university, and our ability to serve Oregonians and the world, are forever enriched because Lorry decided to become our champion."