Honorary Degree Nominee 2017-18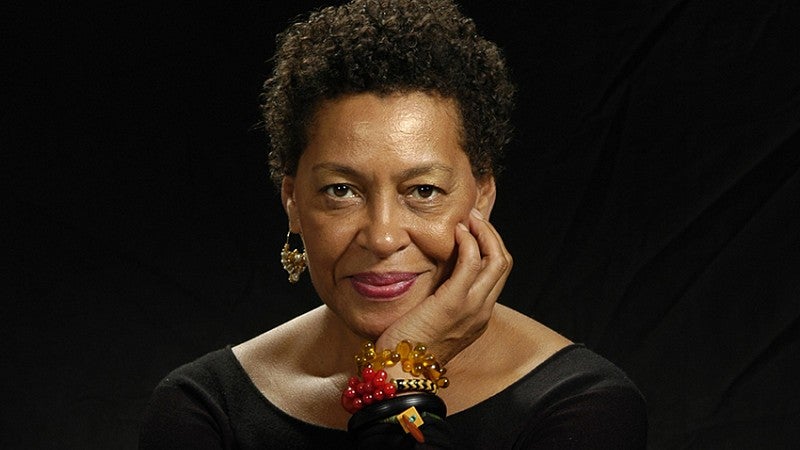 From the moment she unwrapped the birthday gift containing her first camera, Weems began making art driven by her desire to better understand the present through a close examination of history and identity.
Long considered one of America's most influential artists, Weems is the first African-American woman to have a solo exhibition at the Guggenheim Museum. She employs images, video, text, and fabric in solo and group artworks that investigate family relationships, cultural identity, sexism, class, political systems, violence, and the consequences of power.
In his review of the Guggenheim's 30-year survey of her work, Holland Cotter of the New York Times described Weems as "a superb image maker and a moral force, focused, and irrepressible."
From her seminal work "The Kitchen Table Series" (1990) to last year's stunning photo collaboration with Mary J. Blige for W magazine, Weems rethinks the way African-Americans, especially women, are portrayed. The world's major museums and galleries show and collect her work, and her page-long list of honors includes the prestigious Prix de Roma, a medal of arts from the US State Department, a $625,000 MacArthur "genius grant," and the Congressional Black Caucus Foundation's Lifetime Achievement Award.
Weems was born in Portland in 1953. She began her career as an artist at 11 as a participant in dance and street theater. As a teenager, she studied modern dance with Ana Halprin, John Cage, and Robert Morris. In her early 20s, she became active politically as a union organizer. She earned her bachelor's degree from the California Institute of the Arts and a Master's of Fine Arts from the University of California, San Diego.
In nominating Weems for an honorary degree, associate professor of art Amanda Wojick said:
"Her luminous photographs, often of women in exquisitely composed interior and exterior settings, are breathtakingly powerful ruminations of intimacy, history, identity, and connection. To view her work is to enter into an arresting visual experience that is complex and deeply moving. I first encountered Carrie Mae Weems' work as a student in the nineties, and she has long been an inspiration to me as an artist. She is especially deserving of an honorary degree from the University of Oregon at this moment, given her sustained and eloquent engagement with difficult questions of race, class, and the politics of living in America."
The board approved the nomination during its June 2018 meeting. Upon acceptance by Weems, President Schill hopes that she will be able to visit campus during the coming academic year to accept her honorary doctorate and engage with students, faculty, and the community.