The State Board of Higher Education voted unanimously June 15, 2012, to appoint Michael R. Gottfredson as the new president of the University of Oregon, starting Aug. 1, 2012.
Gottfredson has served as executive vice-chancellor and provost and professor of Criminology, Law and Society at the University of California at Irvine since 2000.
"I'm very excited about being appointed president of the University of Oregon and appreciate the efforts of all of those involved in the search process," Gottfredson said. "Karol and I are looking forward to joining the UO community later this summer and helping to move forward the mission and goals of this prestigious institution. This is a unique time for higher education in Oregon with lots of possibilities for helping more students succeed across the state and get us closer to the 40-40-20 goal.
"The UO has and will continue to play a leadership role in ensuring that Oregonians have access to one of the best universities in the country, and that our graduates will continue to make important contributions to the economy of Oregon."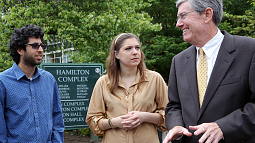 Among the many accomplishments during his tenure at UC-Irvine, Gottfredson led efforts to significantly grow enrollment, add new faculty, degree programs, facilities, schools, and departments.
In addition, he led a major expansion of the UC-Irvine infrastructure, blending state, campus and private support. He helped to create the California Institute for Telecommunications and Technology, including the construction of a $55 million research facility, and the new public law school. 
He is also known for substantially increasing representation of women and under-represented minority faculty and administrators; and for his extensive work to enhance the undergraduate experience within a large research university.
"Oregon welcomes Dr. Gottfredson and his family to the state and to the University of Oregon community," Gov. John Kitzhaber said. "This is an exciting time for education in Oregon, and the addition of Dr. Gottfredson to public higher education continues the positive momentum. He's the right person for the job, and the type of leader who can balance UO's needs and plans with those of the entire state."
Board of Higher Education president Matthew Donegan said that Gottfredson's experience makes for an excellent fit with the UO.
"The appointment of Dr. Gottfredson is great news for the University of Oregon, at a time when the UO is counted on more than ever as an economic and cultural engine for our state," Donegan said. "Michael is an education leader of national renown, befitting the UO's position on the national stage, and its importance here at home. He will contribute immediately to the transformation of Oregon's education system that is already underway."
Interim UO President Robert Berdahl said he has long appreciated Gottfredson's many talents.
"I have admired Mike Gottfredson for many years, from when I first met him when we were both in the University of California and when we worked together in AAU (Association of American Universities)," Berdahl said. "He is outstanding — highly respected, smart, thoughtful. He will be a great president for the UO."
Prior to joining UC-Irvine, Gottfredson served in several positions at the University of Arizona from 1985 to 2000, including interim senior vice president for academic affairs and provost, vice provost and vice president of Undergraduate Education.  Other academic positions Gottfredson has held include associate professor at The Claremont Graduate School, Claremont, California, from 1983-1985; associate professor of Sociology, University of Illinois, Urbana, from 1981 to 1983; assistant professor at the Graduate School of Criminal Justice, State University of New York at Albany from 1977 to 1979; and director of the Criminal Justice Research Center in Albany, New York, from 1976 to 1979.
Gottfredson holds a Ph.D. and an M.A. from the State University of New York at Albany; and an A.B. from the University of California at Davis.
He is married to Karol Gottfredson, who served as the coordinator of the Intern Teacher Credential Program at UC-Irvine. The Gottfredsons have two children and two granddaughters.