Honorary Degree Recipient 2019-20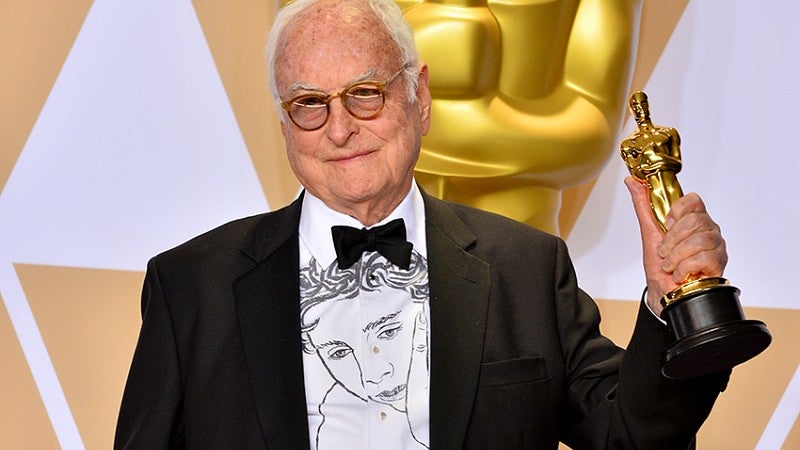 James Francis Ivory is a quintessential honorary degree candidate. He is an American film director, producer, and screenwriter. Ivory (with his production company Merchant-Ivory) has produced more than 40 movies and his work has been recognized with the Oscar, BAFTA, and Golden Globe among others. Additionally, he has been generous in giving back to the university, including a donation of his papers, which are held by Special Collections. 
Ivory was raised in Klamath Falls, Oregon, where he attended Klamath Falls High School. He later graduated from the University of Oregon School of Architecture and Allied Arts, from which he received a degree in fine arts in 1951. He then attended the University of Southern California School of Cinematic Arts, where he wrote, photographed, and produced Venice: Theme and Variations. The film was named by The New York Times in 1957 as one of the ten best non-theatrical films of the year. He graduated from USC in 1957.
Ivory subsequently formed a lifelong creative partnership with producer Ismail Merchant and writer Ruth Prawer Jhabvala. Together they wrote, produced, and directed over 30 films.
In 1986, A Room with a View, based on the E. M. Forster novel, was nominated for eight Academy Awards. A Room with a View was also voted Best Film of the year by the Critic's Circle Film Section of Great Britain, the British Academy of Film and Television Arts, the National Board of Review in the United States, and in Italy, where the film won the Donatello Prize for Best Foreign Language Picture and Best Director.
In 1987, Maurice received a Silver Lion Award for Best Director at the Venice Film Festival.  This was followed in 1990 by Mr. and Mrs. Bridge, which was adapted by Ruth Jhabvala from the novels by Evan S. Connell. This film received an Oscar nomination as well as Best Actress and Best Screenplay from the New York Film Critics Circle.
In 1992, Ivory directed another Forster-adapted film, Howards End. The film was nominated for nine Academy awards. The film also won Best Picture at the British Academy of Film and Television Arts (BAFTA) Awards, as well as awards for Best Picture and Best Director for Ivory from the National Board of Review. The Directors Guild of America awarded the D.W. Griffith award, its highest honor, to Ivory for his work. At the 1992 Cannes Film Festival the film won the 45th Anniversary Prize.
Howard's End was immediately followed by The Remains of the Day, which in turn was nominated for eight Academy Awards.
In 2018 Ivory won an Academy Award for Best Adapted Screenplay for the film Call Me by Your Name.
Merchant-Ivory Films created and defined a form of filmmaking so unique and recognizable that the Los Angeles Times declared that in Hollywood "Merchant-Ivory [has become] a genre unto itself."